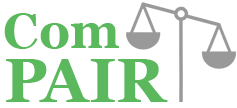 ComPAIR is UBC's homegrown peer review tool
that adds comparing to the process of students reviewing one another's work. In ComPAIR, students see pairs of their peers' assignments presented side-by-side for criteria-guided comparison and feedback. Students learn by comparing
1
and identifying strengths or weaknesses that may not be as evident in an isolated assignment, encouraging productive peer feedback and critical thinking
2
.
| | | |
| --- | --- | --- |
| Cost | | Free |
| Bandwidth | | Low demand |
| Canvas Integration | | Works in coordination with Canvas |
| Privacy | | ComPAIR is FIPPA compliant and data is stored securely in Canada |
| Similar UBC-Supported Tools | | CLAS and peerScholar are also centrally supported for student peer assessment. |
What can I use it for?
You can use ComPAIR to facilitate student peer assessment (aka peer review) assignments:
Managing assignment collection of work done in groups or by individuals and automating distribution of this work to peers
Seeing how students compare and offer feedback on pairs of their peers' work
Giving individual feedback to each student or to the class as a whole
How are faculty using ComPAIR?
Nearly half of my students listed ComPAIR as the most useful classroom assignment on the year-end course evaluation: they enjoyed the comparison aspect, and they could readily understand how the tool and the assignment were helping them to engage course content and the critical processes behind their assignments and assessment. Read More »
---
Students can read six assignments and get exposure to many viewpoints, while still exercising their peer evaluation skills. The direct comparisons themselves also allow students to more acutely see what separates good work from better work. It's an invaluable tool for getting students to explore the grey areas in science. Read More »
---
What do I need to use ComPAIR?
A supported web browser
ComPAIR runs in your web browser and supports using Chrome, Edge, Firefox, or Safari.
A ComPAIR account
Accounts for ComPAIR are based on UBC CWLs (Campus-Wide Logins), so all faculty, staff, and students who have a CWL can create an account themselves. Account creation will happen automatically the first time you log in to ComPAIR.
Tips
You can log in to the ComPAIR at compair.elearning.ubc.ca, but if you use Canvas to set up a course, your students will need to log in to ComPAIR through the link you set up in Canvas.
You and your students can access ComPAIR on a mobile device, in a web browser (there is no app you have to download). We do recommend students use a larger screen when comparing, though, to better see the side-by-side answer pairs.
What should I consider before using ComPAIR?
Before you dive in, it's best to establish your assessment approach from a pedagogical perspective. This includes determining your plan for using ComPAIR and how assessments will relate to grades.
Click any bar below to explore considerations for ComPAIR.
How do I use ComPAIR?
To use ComPAIR, you will first set up a course and create an assignment. Students will then be able to answer, compare, and comment.
Click any bar below for instructions and tips for using ComPAIR.
Where can I get more support with ComPAIR?
Technical support
If you have trouble with ComPAIR:
Pedagogical support
For help with training students to review one another's work, you can consider including the UBC-developed Peer Assessment Training Workshop in your course, prior to assigning your student peer assessments.
---
Bransford, J. D., & Schwartz, D. L. (1999). Chapter 3: Rethinking transfer: A simple proposal with multiple implications. Review of research in education, 24(1), 61-100.