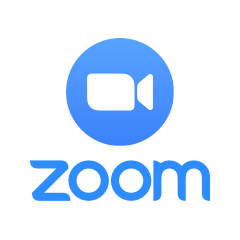 Zoom is a ​video/audio web-conferencing and collaboration tool that lets you meet with students in real time. ​Zoom is an alternative to Collaborate Ultra, if you need a tool to use outside of Canvas and/or one that can accommodate higher numbers of participants and the ability to see more video feeds at once.
In response to COVID-19, UBC is setting up institutional accounts for instructors to use that include more robust features than a free Zoom account.
| | | |
| --- | --- | --- |
| Cost |   | Free |
| Bandwidth |   | High demand |
| Canvas Integration |   | Currently works outside of Canvas; integration is a work in progress |
| Privacy |   | Zoom is now FIPPA compliant and data is stored securely in Canada |
| Similar Tools | | Collaborate Ultra is also centrally supported |
What can I use it for?
You can use Zoom for real-time:
Lectures
Office hours
Group work
Student presentations
Oral exams
Exam presence
The lecture sessions can be recorded to make them available after the real-time event, as long as you keep and share them securely.
You may not record student exams.
What to know about Zoom
As of July 5, 2020, UBC's institutional Zoom account transitioned from U.S.-based hosting to Canadian-based hosting. This means no data about you or your students will be stored on servers outside of Canada, provided that your Zoom session is created and hosted by a UBC Zoom user. All data from these sessions will flow through Zoom's Canadian data centre, regardless of whether any participants are logged in to Zoom accounts or not. UBC has also conducted its own privacy assessment to confirm Zoom does meet the university's other requirements for a teaching and learning tool.
Note that Zoom is FIPPA compliant only if you abide by guidance from UBC Legal: You cannot require students to create free Zoom accounts, as free Zoom accounts are outside of UBC's educational license and still hosted on U.S.-based servers. In storing and sharing lecture recordings, you must also follow UBC's security requirements and FIPPA to keep recordings confidential and secure.
Recording remains strictly prohibited during exams.
What do I need to use Zoom?
A UBC Zoom account
You will need to request a UBC Zoom account from UBC IT.
The Zoom application
Although Zoom has a web interface for some features, you will have to install the Zoom application on your computer to run the sessions.
Audio/visual equipment
Web-conferencing uses a microphone and a webcam.
Tips
Using a UBC Zoom account allows you to host FIPPA-compliant sessions and gives you access to more features than a free Zoom account, like running longer sessions.
Using headphones with a microphone will ensure good audio quality for you and your students.
How do I use Zoom?
You first need to request a UBC Zoom account, then install the Zoom application to run sessions. UBC's educational license with Zoom automatically covers sessions with up to 300 students in a course. If you will be using Zoom with 300 or more students, please also email the UBC IT A/V Helpdesk with your name, the course name, and the class size to enable support for more participants.
Click any bar below for instructions and tips for using Zoom.
Where can I get more support with Zoom?
Technical support
If you have trouble with Zoom:
For instructors and staff outside the Faculty of Medicine at UBC Vancouver:
604 822 7956 or av.helpdesk@ubc.ca
For Faculty of Medicine instructors and staff at UBC Vancouver:
1 877 266 0666 or medit.servicedesk@ubc.ca
For instructors and staff based at UBC Okanagan:
250 807 9000 or visit the UBCO IT Helpdesk
For supporting your students:
---