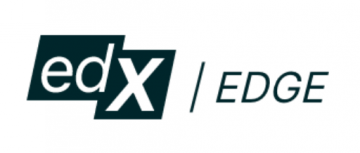 edX Edge is a learning platform that allows you to present online course content in a highly organized sequence of modules and pages. The layout options encourage you to develop interactive content that seamlessly combines multiple elements like text, images, videos, multiple-choice questions, and more advanced components (e.g., peer instruction questions, polls) into discrete units of learning.edX Edge can be used for regular UBC credit courses, while edX.org offers a platform for UBC MOOCs (Massive Open Online Courses). This guide will focus on using edX Edge.
| | | |
| --- | --- | --- |
| Cost | | Free. |
| Bandwidth | | Low demand on internet connections. |
| Canvas Integration | | None. |
| Privacy | | Verified by UBC's Privacy Impact Assessment process, provided you follow the additional steps noted below. |
| Similar UBC-Supported Tools | Y | Canvas is also centrally supported for presenting online course content in modules, and it offers better support for graded activities. |
What can I use it for?
You can use edX Edge to host many aspects of your course online:
Sharing course content using a variety of formats in an integrated layout
Asking students to submit practice assignments and quizzes
Enabling students to engage in student peer assessment and self-assessment
Note that we discourage using edX Edge for high-stakes graded work at UBC, due to the complexities of working within privacy restrictions and working with the edX Edge grading interface.
A note about edX Edge
edX Edge is privacy-compliant, if you take proper steps to protect students' personal information. Please provide the following information to your students:
In this course, we will be using edX Edge, which is a tool to help deliver course content. When creating an account in edX Edge, you will be asked to provide personally identifying information. Please know you are not required to consent to sharing this personal information with the tool, if you are uncomfortable doing so. If you choose not to provide consent, you may create an account using a nickname and a non-identifying email address, then let your instructor know what alias you are using in edX Edge.
What do I need to use edX Edge?
A supported web browser
edX Edge runs in your web browser. For best performance, we recommend using the latest version of Chrome or Firefox. edX Edge also supports the latest version of Microsoft Edge or Safari, but will not work with Internet Explorer.
---
An edX Edge course
edX Edge courses must be requested and created through the LT Hub, as outlined below.
Tips
We encourage using edX for MOOCs rather than for UBC credit courses. edX offers robust teaching options for open and mass-scale courses; however, its options for grading are limited.
edX Edge is best used in credit courses only for content delivery and self-assessment. For building credit courses with more options and streamlined grading, we suggest using Canvas, UBC's primary learning platform.
You can download edX Edge mobile applications for iOS and Android. However, not all features will work properly in the app.
How do I use edX Edge?
Note that this guide is for instructors using edX Edge to host credit courses for students at UBC. You will first request a course, then build content in it using the edx Edge Studio.
Click any bar below for instructions and tips for using edX Edge.
edX Edge FAQ
Click any bar below to find UBC-specific answers to frequently asked questions.
edX has two ways of delivering course content:
edX: edX.org, for MOOCs (Massive Open Online Courses) and professional education courses
edX Edge: edge.edx.org, for universities to provide traditional campus courses
These are completely separate websites, with separate platforms, databases, servers, and login credentials. Many courses on edX are open to the public at large. Courses on edX Edge are exclusive to those enrolled through the related university, and students must know your course URL to register.
Note that the steps in this guide guide are for instructors using edX Edge to host credit courses for students at UBC.
To run a UBC MOOC on edX.org, you can start by applying for UBC funding for a flexible learning project through the Teaching and Learning Enhancement Fund.
Next steps would then include receiving approval for a MOOC team and MOOC course on edX.org. The LT Hub does not support MOOCs, but UBC Extended Learning offers support for all UBC MOOCs on edX.
edX Edge is not intended to replace any other learning tool at UBC. Rather, it is meant to offer a supplementary way of delivering course content. At this point, edX Edge lacks some core functionality required to be a complete learning platform like Canvas; we encourage using edX Edge for content delivery and self-assessment at UBC rather than for any high-stakes graded work.
Where can I get more support with edX Edge?
Technical support
If you have trouble with edX Edge:
---
Pedagogical support
The UBC Online Teaching Program can help with designing common elements in an online course (Module 2.3), with an emphasis on creating teaching presence, clarifying expectations, and providing communication guidelines. These elements apply to any online course, regardless of the platform used.
---