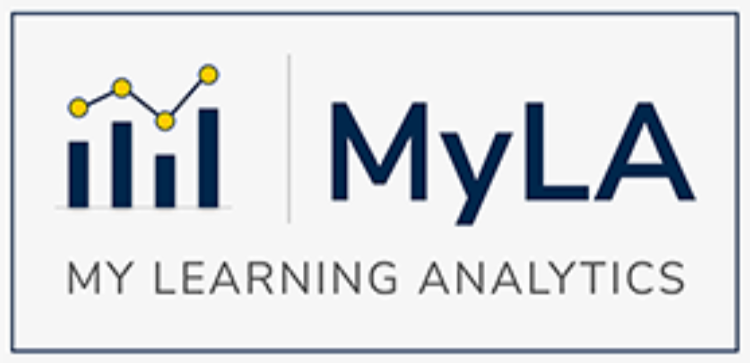 My Learning Analytics (MyLA) is a dashboard in Canvas that gives you and your students feedback about their engagement with course materials, assignments, and grades. You can enable two visualizations for students. One is a summary of the resources that students and their peers have accessed, and the other provides students with a way of setting grade-based goals and planning their assignment completion.
What can I use it for?
You can use MyLA to empower student learning in several ways:
Encouraging higher student engagement and self-directed learning
Monitoring what course resources best assist students in their learning
Guiding students' decisions about what actions to take to improve their academic outcomes
This tool guide was last reviewed in November 2021.
What do I need to use MyLA?
A supported web browser
MyLA runs in your web browser and supports using Chrome, Firefox, Safari, or Edge.
---
Activity in a Canvas course
MyLA works only with content and learning activities in Canvas courses at UBC. All UBC courses have matching courses in Canvas automatically created, with the enrolled students added, even if you have never used Canvas.
Tips
You and your students can access visualizations in multiple ways: directly from the Canvas Course Navigation or from any related page in Canvas.
How do I use MyLA?
To get started with MyLA, you will need to request access from us in the LT Hub and enable MyLA in your Canvas course. You can then make the dashboards visible for students.
Click any bar below for instructions and tips for using MyLA.
Request and set up MyLA in your Canvas course
To begin using MyLA, you will need to request access for your Canvas course by contacting us in the LT Hub.
Once you have received access, you will need to turn on MyLA in your Canvas course:

Log in your Canvas class and click Settings in the Course Navigation.
Click the Navigation tab.
Find the MyLA menu item, click the options menu (the three vertical dots) and choose Enable.
Click Save to save your settings changes.

Click My Learning Analytics in the Course Navigation to initiate the syncing process.
The MyLA menu item will now be available for you and your students.
Tips
When MyLA is first enabled, there will be a delay before students can view meaningful results, as MyLA data gets updated every 24 hours. It's good to let your students know about this delay. The time at which the data was last refreshed is noted beneath each dashboard.
Enable or disable MyLA visualizations for your students
MyLA gives students insights into their engagement with your Canvas course content, encouraging them toward behaviours that can improve academic outcomes. Two dashboards are available, and you can choose which are appropriate for your course.
In your Canvas course, click My Learning Analytics in the Canvas Navigation.

If you do not see this option, please follow the steps in the accordion above for setting up your course.

Click the checkbox next to "Enabled" or Disabled" to change the status of each visualization:

Resources Accessed - Allows students to view the course files used by their peers and organize these according to the other students' course grades. Each student can set the date range and the grade cutoff for their visualization of the course files.
Assignment Planning - Provides students a way of setting grade percentage-based goals for their assignments and the course as a whole. Each student can review their actual performance in relation to these goals and plan their intended goals going forward.

Once you check or uncheck the visualization, your change(s) will automatically be saved.
Let your students know what you've made available and how it might help them.
Tips
If you enable the "Resources Accessed" visualization, consider these best practices:

Use clear and concise names for files in your course, so that students can easily recognize the files in the visualization.
Publish all the files you want displayed and accessible through the visualization. If you have files that are unpublished or set to "schedule student availability", they will not appear in the dashboard.
If you are restricting files using the "Only available to students with link" setting in Canvas, be aware that enabling the "Resources Accessed" visualization will override this restriction.

If you enable the "Assignment Planning" visualization, consider these best practices:

Publish all assignments you want displayed in the visualization and ensure each has a clear name, points, due date, and weight (if applicable). Note that publishing does not mean the assignment details are released to students; you can still control separately when students can access the assignment.
If implementing Canvas assignment group rules, make sure that all assignments will be dropped from grade consideration.
Where can I get more support with MyLA?
Technical support
If you have trouble with MyLA:
---