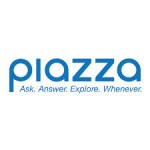 Piazza is an online discussion tool that you can use to facilitate written discussions or question-and-answer threads involving students, teaching assistants (TAs), and instructors. Piazza also supports other features like anonymous posting, polling, and wiki-like collaboration (allowing multiple people to edit the same posts).
| | | |
| --- | --- | --- |
| Access | | You can access Piazza through Canvas. |
| Cost | | Free. |
| Bandwidth | | Low demand on internet connections. |
| Canvas Integration | | Works in coordination with Canvas, but no grades are passed from Piazza to Canvas. |
| Privacy | | Verified by UBC's Privacy Impact Assessment process, provided you follow the additional steps noted below. |
| Similar UBC-Supported Tools | Y | The built-in discussions in Canvas have some overlap with Piazza. |
What can I use it for?
You can use Piazza to facilitate student discussions:
Supporting instruction between peers, wherein students can create and discuss topics and ideas with each other
Providing a platform for students to collaborate and answer each other's questions
Creating an open learning environment where students can post anonymously
Running polls to check student understanding of course concepts
A note about Piazza
Piazza is privacy-compliant, if you take proper steps to protect students' personal information. Please provide the following information to your students:
In this course, you will be using Piazza, which is a tool to help facilitate discussions. When creating an account in the tool, you will be asked to provide personally identifying information. Please know you are not required to consent to sharing this personal information with the tool, if you are uncomfortable doing so. If you choose not to provide consent, you may create an account using a nickname and a non-identifying email address, then let your instructor know what alias you are using in the tool.
This tool guide was last reviewed in December 2021.
What do I need to use Piazza?
A supported web browser
Piazza runs in your web browser and supports using Chrome, Firefox, Safari, or Edge.
Tips
Piazza offers mobile applications for iOS or Android devices. Check out how to install Piazza apps to interact with your courses.
How do I use Piazza?
You will first need to create or associate a Piazza account with Canvas, then set up a class for students to enrol in.
Click any bar below for instructions and tips for using Piazza.
Where can I get more support with Piazza?
Technical support
If you have trouble with Piazza:
---
Pedagogical support
---