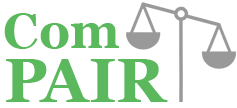 ComPAIR is a peer assessment and feedback application in which students first answer an assignment and then compare and respond to pairs of peer answers. For each pair, students pick the answer they think better meets instructor-set criteria (e.g., "Which is better articulated?", "Which is more accurate?") and write feedback to each peer.
Jump to a section: Get Started | Support | FAQ
---
Getting started

How do I get started?
Watch a 4-minute introduction video on ComPAIR:
Read more about ComPAIR:
Support site - See the workflow, explore examples, and learn about best practices
Demo site - Try out the instructor and student experiences
Faculty and staff at UBC can most easily get started with ComPAIR by using Canvas. Through Canvas, you can set up a course in ComPAIR that will automatically be populated with your class list. The setup process is guided and only takes a few minutes.
Use ComPAIR in your Canvas course:
Add a ComPAIR link to your Canvas course's sidebar OR in a specific course module. You can follow the instructions below or contact the LT Hub for assistance with this step.

To add a link in the course's sidebar: Go to Settings in your Canvas course. Select the Navigation tab. Scroll down until you find ComPAIR. Click the gear, and select Enable.
To add a link in a course module: Go to Modules in your Canvas course. Press the "Add item" button on a specific module. Select External Tool from the drop-down menu. Select ComPAIR and then add the item.

After the course link is set up in Canvas, click on the link to create your ComPAIR course. (This step is required to properly link your Canvas and ComPAIR courses together.) If you are a completely new user in ComPAIR, you will first be prompted to create an account and then a course.
Note that because of how Canvas currently works, students also MUST follow the ComPAIR link from your Canvas course to initially register in your ComPAIR course. They cannot go to the ComPAIR website directly and try to log in there first; this will result in being denied access to ComPAIR and/or your ComPAIR course.
If you do not want to use Canvas to set up ComPAIR, you are welcome to log in to the application directly at compair.elearning.ubc.ca. From there, you can add a course and populate it manually using the "Import Users" option found on the "Manage Users" screen inside the course. Note that importing users requires some knowledge of how to download and edit a CSV file of your course's students and means you will need to manage the class list manually (i.e., updating when students add or drop).
Linking manually created ComPAIR course with Canvas
Instructors would sometimes manually create their ComPAIR course directly on the ComPAIR site instead of through Canvas. There may be times when instructor decides they would like to link their ComPAIR course with Canvas or just link ComPAIR assignments in their Canvas course.
To link a manually created ComPAIR course with Canvas for either cases, the instructor will need to establish a linkage from Canvas to ComPAIR.
First, we will need to add a ComPAIR link to the Canvas course's sidebar
To add a link in the course's sidebar: Go to Settings in your Canvas course. Select the Navigation tab. Scroll down until you find ComPAIR. Click the gear, and select Enable.
Next, click on the ComPAIR link which will direct you to the ComPAIR site. Select the ComPAIR course to link with the Canvas course. Instructors can disable the ComPAIR link in their Canvas course's sidebar after this step.
If you would like to just link ComPAIR assignments, follow the steps below Linking directly to a ComPAIR assignment via LTI on how to set up ComPAIR assignment links in Canvas.
Linking directly to a ComPAIR assignment via LTI
Once you have set up a ComPAIR course and assignments, you can link directly to ComPAIR assignments from Canvas. This is useful if you want to send students to specific assignments from specific modules of your Canvas course and/or you want to enable automatic grade pass-back from ComPAIR assignments to Canvas.
To create an assignment link in Canvas:
Go to ComPAIR and edit the assignment you want to link to.
Click the "Copy?" link at the top right of the edit assignment screen. This will copy the information you need to enter in Canvas.
Now switch to Canvas and add an assignment, with a submission type of external tool and ComPAIR selected as the external tool.
At the end of the "External Tool URL" field, type a question mark (?), then paste the value you copied from ComPAIR. This will mean the "External Tool URL" will ultimately something look like this: compair.elearning.ubc.ca/api/lti/auth?assignment=********
Select "Load This Tool In A New Tab".
Save the assignment. When students click on the assignment in Canvas, it will take them directly to the assignment in ComPAIR.
Note that to pass participation grades automatically from ComPAIR to Canvas for a given assignment, every student will need to click this Canvas link to the ComPAIR assignment once. Clicking the link opens up the Canvas-ComPAIR connection for that student's grade.
What tools can I use with this?
ComPAIR courses are most easily created with Canvas, but after setup, you can use the tool inside or outside of Canvas. However, if using Canvas for your setup, students must go through Canvas to access ComPAIR initially in order to properly register in your course.
---
Available support

What support is available?
ComPAIR is being developed by UBC's Centre for Teaching, Learning and Technology, with an active working group anyone using the tool is welcome to join. Support is provided by the Learning Technology Hub and individual instructional support units.
---
Frequently asked questions

FAQ
Answers to frequently asked questions from instructor, student, and technical perspectives are available on the support site FAQ.
---
tagged as: