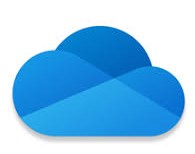 Microsoft OneDrive is a secure file-hosting service
that allows you to store, share, and synchronize files and folders from any connected devices. It offers 1TB of encrypted data storage, file versioning, and the ability to access and edit files and folders offline. In Microsoft OneDrive, you can access your files from any device, share them with other students and your instructors, and view and restore previous versions.
Microsoft OneDrive has passed a UBC Privacy Impact Assessment, meaning it follows UBC and provincial privacy policies.
What will I use it for?
You can use Microsoft OneDrive for secure file storage that comes with many convenient features:
Create, edit, and access your files from anywhere
Synchronize files across multiple devices
Share and collaborate on files with others at UBC
Access files from Microsoft Teams
What do I need to use Microsoft OneDrive?
The Microsoft OneDrive application
Although Microsoft OneDrive has a web interface, you may find it more convenient to install the Microsoft OneDrive application on your computer or mobile device. The application will create a OneDrive folder in your regular directory, where you can interact with the files you're storing without having to log in on your web browser.
However, Windows XP and Linux users will need to access Microsoft OneDrive through the web interface, as these operating systems do not work with the Microsoft OneDrive application.
---
A UBC Microsoft account
To access Microsoft OneDrive and other Microsoft products at UBC, you will need a UBC Microsoft account. To get a UBC Microsoft account, you have to be a registered, active UBC student and follow the opt-in process, as outlined below.
Tips
If you will be using the web browser, Microsoft OneDrive supports most web browsers, including the latest version of Chrome, Firefox, Internet Explorer, Microsoft Edge, and Safari.
How do I use Microsoft OneDrive?
You will first need to make sure you're set up with a UBC Microsoft account. It's also easiest to download the Micosoft OneDrive application for managing the files you will store on it. Alternatively, you can log in to the web interface and manage files there.
Click any bar below to find instructions and tips for using Microsoft OneDrive.
Microsoft OneDrive FAQ
Find UBC-specific answers to frequently asked questions by clicking any bar below.
Yes. You'll need one UBC Microsoft account to access all Microsoft products, but you can use them independent of each other.
No. You can install the desktop or mobile application to use Microsoft OneDrive, but you can also access it from your browser by signing in at portal.office.com and selecting OneDrive. However, you may find it more convenient to use the app than the web interface, which will regularly require you to log in.
If you install the Microsoft OneDrive application, you will see a new OneDrive folder in your directory for managing your files. You can also use the web interface along with the application, as they work in tandem with each other.
Where can I get more support with Microsoft OneDrive?
Technical support
If you have trouble with Microsoft OneDrive:
---
Online learning support
---