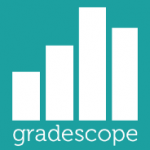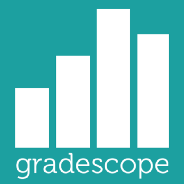 Gradescope is an application for grading online, designed for easing the challenges of grading collaboratively with a teaching team, particularly on exams. Gradescope supports grading by distributing assessments and assignments to graders, helping them add grades and feedback to student work, returning graded work to students, and providing analytics for teaching teams to review the grading outcomes.
| | | |
| --- | --- | --- |
| Access | | You will need to request and set up Gradescope with us first. Once you have completed setup, you can access Gradescope through Canvas. |
| Cost | | Faculties/Departments provide funding per student per course. Please contact your Instructional Support Unit to discuss funding availability. |
| Bandwidth | | Low demand on internet connections. |
| Canvas Integration | | Works in coordination with Canvas. |
| Privacy | | Verified by UBC's Privacy Impact Assessment process. |
| Similar UBC-Supported Tools | N | The LT Hub is discontinuing support for the similar tool Crowdmark on April 30, 2024. We recommend only using Gradescope for online collaborative grading. |
What can I use it for?
You can use Gradescope for managing the grading process of student work:
Creating, collecting, and grading fully online assignments and assessments
Using paper-based assessments that are then scanned, graded, and returned to students online
Allowing multiple graders to grade the same student submission and even the same question in parallel without overwriting one another
Enabling artificial-intelligence grading features to speed up the grading process
This tool guide was last reviewed in March 2023.
What do I need to use Gradescope?
Funding for Gradescope
Note first there is a cost for using Gradescope at UBC. The cost is charged per student per course. You can check with your Instructional Support Unit to see if funding is available.
---
A supported web browser
Gradescope runs in your web browser and supports using Chrome, Edge, Firefox, or Safari. For which versions work, check the Gradescope supported browser page.
---
A Gradescope course
Gradescope courses must be requested and created through the LT Hub, as outlined below.
Tips
It's easiest for you and your student to access Gradescope through the link that will be added to your Canvas course. But you can set up an account to log in to gradescope.ca/login, once you've been set up with a Gradescope course.
Where can I get more support with Gradescope?
Technical support
If you have trouble with Gradescope:
---
Pedagogical support
The UBC Online Teaching Program includes a section on what makes effective feedback (Module 3.4), which can provide useful strategies to the teaching team involved in the marking process.
---
Student support
---