In the first year of the Learning Analytics project, research and engagement activities centre primarily around engaging faculty in the development and piloting of learning analytics tools focused on improving student learning and success. At a high level, the Learning Analytics Project's engagement goals are to empower faculty members and departments with analytics to address challenges they have identified and to facilitate a community of faculty members who are actively engaged in the development of learning analytics models and student learning research.
The Learning Analytics Project's engagement efforts include collaborations between faculty members and UBC's Learning Analytics Working Group — largely through one-on-one consultations and research pilots — as well as workshops and events. Faculty members who would like to learn more about the project or get involved are encouraged to get in touch.
---
Research Pilots
Research pilots are a key component of the Learning Analytics project. These pilots are aimed at identifying faculty members' questions, exploring actionable sources of data, and trialing candidate tools that empower faculty members and departments with analytics to address the questions they have identified.

Faculty members are invited to get in touch to learn more about or participate in the ongoing analytics pilots.
---
Upcoming Learning Analytics Workshops
Using Canvas Analytics to Improve Teaching and Learning Outcomes –  November 27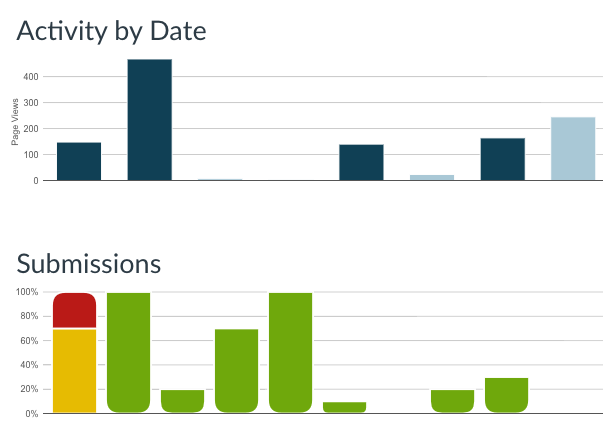 Canvas course analytics and quiz statistics can be useful tools for understanding how students are engaging with course materials and identifying areas of challenge and success for students.
At this hands-on workshop, instructors will have the opportunity to explore Canvas's built-in learning analytics dashboard, learn more about emerging analytics tools, and provide feedback that could make learning analytics even more useful for instructors and students.
Introduction to Social Network Analysis with Threadz – October 17
Threadz is a plugin tool for Canvas that allows users to visualize the social dynamics of their discussion forums. The tool can be deployed as either an instructor-facing tool or for both students and instructors to see and use.
In this workshop, we will introduce Threadz, survey the literature on Social Network Analysis, and walk through use cases of how you can effectively use Threadz to monitor and reflect on Canvas Discussions.
Using Learning Analytics to Provide Timely, Personalized, and Actionable Feedback – November 29
This workshop provides an introduction to OnTask, an analytics tool that enables instructors to give targeted, customized messages based on the metrics that they set for their courses. Feedback can range from targeted remediation suggestions for students at-risk to enrichment opportunities for high achieving students.
---
Learning Analytics Hackathon 3.0
On March 10 and 11, 2018, the Learning Analytics project and LAVA (Learning Analytics, Visual Analytics) hosted UBC's third Learning Analytics Hackathon. This year, participants focused on how data analysis and visualizations could be used to improve student learning and experiences.
The event attracted more than 100 participants–including students, researchers, and instructors–who had the chance to work with open learning data from Harvard and the Open University (UK).
No prior experience working with data was needed, and optional workshops were offered to participants focused on design and data analysis. Participants worked in teams to design or build learning analytics tool prototypes, showcasing their efforts at the end of the weekend with a short presentation.