The Student Time Zones tool in Canvas visualizes your students' availability based on their time zone​, which can be manually set by each student or automatically set by Canvas. Students can choose to set a preferred time zone in their Canvas profile settings. Alternatively, Canvas will set an inferred time zone for students based on the IP address of their most recent Canvas login. The inferred time zone may not be reliable, but it is a best guess.
| | | |
| --- | --- | --- |
| Cost | | Free |
| Bandwidth | | Low demand |
| Canvas Integration | | Works within Canvas |
| Privacy | | Student Time Zones is FIPPA compliant and data is stored securely in Canada |
| Similar UBC-Supported Tools | | (none) |
What can I use it for?
You can use Student Time Zones to support collaboration:
Determine the overlap of regular working hours for everyone in the course
Schedule synchronous course activities at times that accommodate the majority
Although the tool will help you determine time zone-based overlaps, please note it does not show general availability like a calendar.
What do I need to use Student Time Zones?
A supported web browser
The Student Time Zones tool runs in your web browser in Canvas and supports using Chrome, Edge, Firefox, or Safari. For which versions work, check the Canvas supported browser page.
A Canvas course
This tool only works in Canvas courses at UBC and is only accessible by course instructors.
How do I use Student Time Zones?
Student Time Zones works exclusively in Canvas, where you can view and filter the visualizations.
Click any bar below for instructions and tips for using the Student Time Zones tool in Canvas.
Access Student Time Zones in Canvas
Log in to your Canvas course, and click Student Time Zones in the Course Navigation.
You will see a dashboard for the tool showing the data for the course you are in.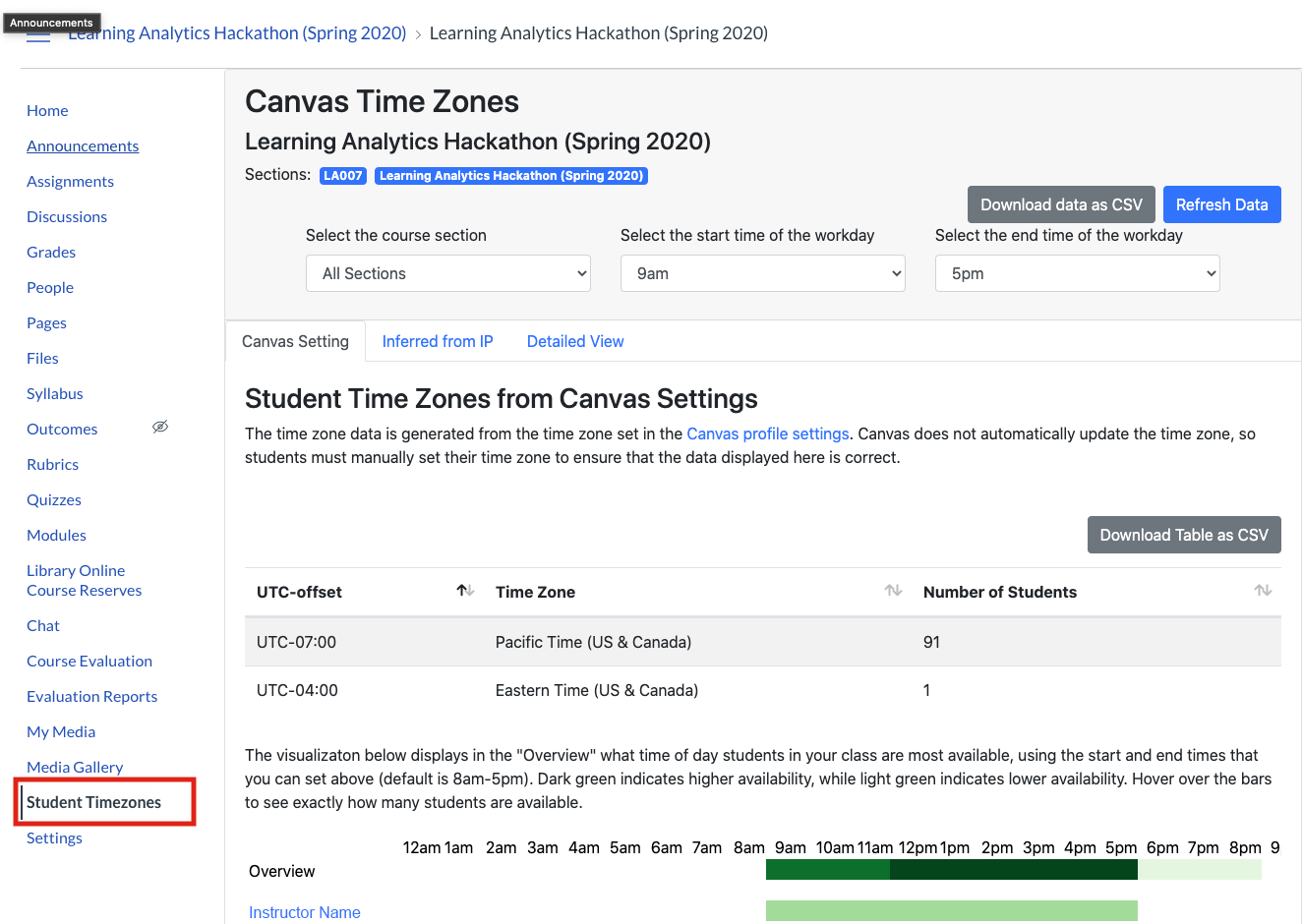 Use the data in Student Time Zones
At the top of the interface, you can set filters for the course section(s), workday start time, and workday end time you want to display. Changing sections and times will adjust the visualizations that show when students are available.
Below the filters, you'll see three tabs you can access by clicking them:

Canvas Setting tab: Displays the preferred time zone information for students who manually set a time zone in their Canvas profile settings. Preferred time zone is the time zone that best reflects the hours when students prefer to do coursework and may not reflect the location they are living in.
Inferred from IP tab: Displays time zone information inferred from the IP address of students' most recent Canvas login. If a student has not logged in previously, the default time zone (Pacific Time) is displayed. The inferred time zone is an approximate location based on an IP address and may not be reliable, but it is a best guess.

Students using UBC's VPN (Virtual Private Network) are filtered out from this view, as it changes the IP address, and students using commercial VPNs may likewise have inaccurate locations. Given these inaccuracies, please do not use this information for anything other than general guidance in scheduling synchronous coursework.

Detailed View tab: Displays each student's preferred time zone (if set) and inferred time zone, as well as when they last logged in and if they were using the UBC VPN.

Click the Canvas Setting tab or Inferred from IP tab to see a visualization of those students' availability, based on the workday start and end times you set.

The "Overview" visualization bar shows overall student availability. Darker green indicates more students are available, while lighter green indicates fewer students are available. Hovering the mouse over this bar displays more information.

Your availability is shown below, beside your name. Your name is linked to your Canvas profile settings page, where you can change your preferred time zone.

Scroll down in either tab to see visualizations of individual student's availability.
You can download the data to work with offline by clicking Download data as CSV at the top (to download the data overall) or Download Table as CSV in each tab (to download the data specific to that tab).
Set your time zone in Canvas
In Canvas, click Account in the Global Navigation (the dark blue menu), then click Settings.
Click Edit Settings on the right.
Select your preferred time zone from the drop-down.
Click Update Settings at the bottom. Your time zone will be updated.
Where can I get more support with Student Time Zones?
Technical support
If you have trouble with Student Time Zones or Canvas:
For supporting your students
Encourage your students to update their time zone in Canvas to suit their preferences.
Share UBC's Canvas student guide
Learn More
If you or your students change your time zone in Canvas, Canvas will automatically adjust times to match your new time zone. For example, if a student changes to Eastern Time, an assignment that you set as due at 5 p.m. Pacific Time will show for that student as due at 2 p.m. Eastern Time.
---
Except where otherwise noted, this tool guide is licensed under a Creative Commons Attribution 4.0 International License.